green education articles
eco-friendly companies
We invite you to list your business in our directory so the world can learn more about the good work you are doing.
learn more
corporate sponsors
Interested in being a corporate sponsor with premium placement on our site? Contact us for more information.
learn more
related articles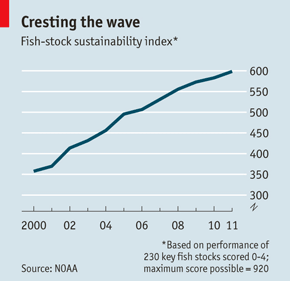 Catch shares as a method of aligning economic and environmental incentives have been a hot topic in the news. The Atlantic published a piece by Jonathan H Adler, a professor of law, entitled "Property Rights and Fishery Conservation" which discusses fisheries as an ideal example of the 'tragedy of the commons' where introducing concepts of property rights are a smart solution. He writes, "The creation of property rights in an ecological resource not only creates incentives for greater resource stewardship, to conserve the underlying value of the resource today and into the future. It also gives those who rely upon the resource a stake in the broader set of institutions that govern the resource." He asserts that traditional fishery management has failed world fish stocks and that catch shares are scientifically proven to rebuild the resource and protect the fishermen in the future.
Read the full post »
Source: EnvironmentalDefense
Comments